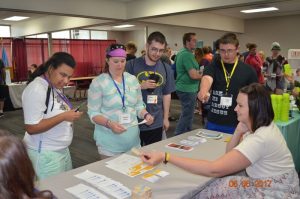 IDEA requires that in addition to parents, the student, and the school personnel, that other agency representatives participate in the transition process as needed.  A representative from any other agency that is likely to be responsible for providing or paying for transition services needs to be invited to the student's IEP meeting.  Prior to inviting an outside agency, school personnel must receive written consent from the parents or the student who has reached the age of majority.
Outside agency representatives who could be invited to the IEP meeting may include:
Mental Health Professional

Department of Labor & Regulation Representative

Others that may be relevant to the student's needs and preferences

 
Statewide Adult Services Contact Information: SD Adult Services 2017
Specific Roles of Adult agency Representatives:
Provide information about their services and assist in identifying supports the student will need for success in the adult life.

Provide a unique perspective of helping IEP team members to understand adult issues in receiving services that may not be considered by the school or family.

Collaborate with the IEP team to plan and support the student's dream for the future.

Be innovative and creative in developing supports and services to best support the individual with a disability in meeting his/her dreams.

 
---
TSLP Support Agencies
Division of Rehabilitation Services
Hillsview Properties Plaza, 3800 E. Hwy 34, Pierre, SD 57501
Eric Weiss, Director
Bernie Grimme, Assistant Director, Contact Person
Phone: 605-773-3195, 605-773-3195 (TTY)
Fax: 605-773-5483
Bernie.Grimme@state.sd.us
Division of Services to the Blind and Visually Impaired
Hillsview Properties Plaza, 3800 E. Hwy 34, Pierre, SD 57501
Gaye Mattke, Director
Rhonda Williams, Asst. Director
Phone: 605-773-4644, 605-773-9684 (TTY)
Fax: 605:773-5483
South Dakota Department of Education                                      
Special Education Programs
800 Governor's Drive, Pierre, SD 57501
Linda Turner, Special Education Programs Director
Beth Schiltz, Special Education Programs Transition Specialist
Phone: 605-773-3678