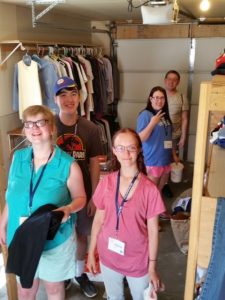 The Division on Career Development and Transition (DCDT) of the Council for Exceptional Children defines transition assessment as an "…ongoing process of collecting data on the individual's needs, preferences, and interests as they relate to the demands of current and future working, educational, living, and personal and social environments. Assessment data serve as the common thread in the transition process and form the basis for defining goals and services to be included in the Individualized Education Program (IEP)" (Sitlington, Neubert, & LeConte, 1997; p. 70-71).
Federal law requires "appropriate measurable postsecondary goals based upon age appropriate transition assessments related to training, education, employment, and, where appropriate, independent living skills" (§300.320[b][1]).
---
Common Transition Assessments in South Dakota (July 2016):  This document identifies transition assessments with descriptions and links to commonly used transition assessments in South Dakota.  SD Commonly Used Transition Assessments
Northeast Indiana Cadre of Transition Leaders Transition Assessment Matrix: This site allows you to choose the Transition Domain (Employment, Education/Training, Independent Living) that you wish to explore transition assessments for. Once you choose a domain, you may then choose the appropriate grade level(s), and the disability area(s) that are most similar to the needs of the student(s) you are assessing. The site will then generate types and kinds of transition assessment which would fit areas identified in the domains:  https://www.iidc.indiana.edu/styles/iidc/defiles/CCLC/transition_matrix/Transition_Matrix.html#contentArea  
South Dakota QuickBook Of Transition Assessments: South Dakota developed this transition assessment book in 2006.  Nationally know transition experts refer to the document on a regular basis. QuickBook IEP Checklist
Individual Transition Planning (ITP) Guide: The ITP guide was written so that people with developmental disabilities and their parents can become more involved in writing their own transition plan. Information developed in this workbook can be written into the IEP.  http://mn.gov/mnddc/extra/publications/choice/Choice4b-Ind_Plans-itp.pdf 
Self-Determination Assessments http://www.ou.edu/education/centers-and-partnerships/zarrow/self-determination-assessment-tools.html
AIR Self-Determination Assessment
ARC Self-Determination Assessment
ChoiceMaker Self-Determination Assessment
Transition Assessment and Goal Generator (TAGG) is a on-line transition assessment for secondary-aged youth with disabilities, their families, and professionals. The TAGG provides a norm-based graphic profile, present level of performance statement, lists of strengths and needs, and suggested IEP annual transition goals. https://tagg.ou.edu/tagg/ .  If interested in receiving a credit to use TAGG, contact your regional transition liaison.
Wisconsin's Assistive Technology Assessment:        Wisconsin AT Assessment
Vocational Assessments
ACT Explorer and Plan Tests: See your school counselor
U.S Dept of Labor O-Net:  www.onetcenter.org
On-Line Individual Interest Inventory
My Future:       www.myfuture.com
Occupational Outlook Handbook https://www.bls.gov/ooh/a-z-index.htm
Additional Assessment Links
Transition Planning Inventory (TPI)ProEd  https://www.proedinc.com/AdvancedSearch/DefaultWFilter.aspx?SearchTerm=transition+planning+inventory
Enderle-Severson Transition Rating Form: www.estr.net
Ansell-Casey Life Skills: www.caseylifeskills.org .