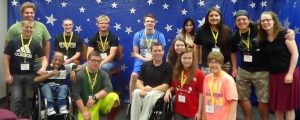 As a young child, do you remember people asking you "What do you want to be when you grow up?" Well, the time in your life when you have to come up with answers to this question is quickly approaching for you!
At this moment, you may only be worried about getting through high school! Soon you will be entering the 'big world' out there! Little scary, isn't it?
Questions, questions, questions??
What are you planning to do for the rest of your life after graduation?
What type of job would you like to have?
Do plans for your future include going to college?
Where will you live?
What type of transportation will you use?
What do you want to be when you grow up?
What will you do for fun?
Lots & Lots of things to talk about. The great thing is, federal law states that by the time you are 16 years old, or younger if appropriate, your Individual Education Program team must begin to address these questions with you and your family. Hopefully the information you find on our website will help you with your seamless transition into a wonderful adult life of employment, education/training and independent living.
Planning on Attending College?
Needing Work Experience?
Links:
If you have any questions, feel free to contact your Regional Transition Liaison