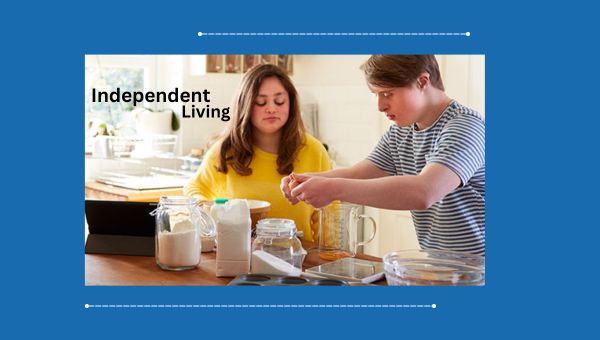 As teens approach adulthood, living independently becomes a significant goal. Independent living skills or tasks are those related to daily living and may include housing, personal care, transportation, and social and/or recreational opportunities. Each student's needs in the area of independent living are unique and should be determined through formal and informal age-appropriate transitional assessments.
Alternatives to Guardinship

South Dakota law states:

An individual becomes an adult at age 18.
At that time, they will be responsible for making their own decisions no matter how significant their disability is.
Parents/Guardians will lose their right to make decisions on the child's behalf.



If an individual will be in need of assistance in making decisions, families need to plan ahead before the person turns 18. There are many options when considering helping someone with decisions after their 18th birthday. It is best to allow a young adult to keep as many rights as possible.

For more information:

Options Available:

Supported Decision Making (SDM): The process of assisting persons with a disability to make their own decisions, so they can develop and pursue their own goals, make choices about their adult life, and exercise some control over the things that are important to them.

Representative Payee: Another individual act as the receiver of the United States Social Security Disability or Supplemental Security Income for a person who is not fully capable of managing their own benefits.

Power of Attorney: This option doesn't require a court hearing. This option consists of a notarized document with specific reasons (medical, financial, etc.) stated, doesn't require a court hearing, and the person with the disability retains authority to make decisions.

Limited Guardianship: Provides a guardian with decision-making authority and responsibility over only selected areas that the person has been determined by the court as unable to manage. For example, limited guardianship might only apply to health care decisions.

Conservatorship: An individual is appointed with decision-making authority to manage, protect, and preserve the protected person's estate and finances.
Social Security Benefits

South Dakota Benefits Specialist Network

People with disabilities who want to learn about their disability benefits, and who are already working or ready to enter the workforce, can contact a Benefits Specialist to learn about benefits: Medicare, Medicaid, reporting income, and anything else related to working and managing benefits.
Developmental Disability Programs

The mission of the Division of Developmental Disabilities (DDD) is to ensure that people with developmental disabilities have equal opportunities and receive the services and supports they need to live and work in South Dakota communities.

The Division of Developmental Disabilities offers a wide array of services from intermittent support in a person's home to around-the-clock care. All services are offered with the goal of supporting people to live as independently as possible and supporting their health and safety needs.

Division of Developmental Disabilities Overview

Service Options Available:

CHOICES Waiver – Community, Hope, Opportunity, Independence, Careers, Empowerment, Success (CHOICES) is a program with services for children and adults with intellectual and developmental disabilities.

Services may include:

Individual Assistive Technology
Residential Services
Supported Employment Individual & Group
Career Exploration
Day Services
Small Group Vocational Support
Specialized Medical Equipment and Drugs
Case Management



Conflict-Free Case Management – Each person seeking CHOICES waiver services selects a case management provider as their first step. Your case management provider cannot be the same as your service provider. This is to ensure you get an unbiased plan that meets your needs. The case manager will help:

Gather and send required proof to determine if a person qualifies
Make a high quality, person-centered plan for supports and services
Identify, apply for, and access the supports the person needs and wants from available providers and resources
Advocate and problem solve



Community Support Providers (CSP) – A community service provider (CSP) provides direct services to people supported by the CHOICES waiver. There are 21 CSPs in South Dakota which provide residential, employment, and nursing care in a variety of settings.

 

Family Support 360 – Family Support 360 (FS 360) helps people with intellectual and developmental disabilities and their families get the services they need to live in their own home and community as independently as possible. 

FS 360 is self-directed, which allows the person or their guardian to choose their staff and schedule based on their needs.

Services may include:

Support Coordination
Respite Care
Companion Care 
Personal Care
Supported Employment
Vehicle Modification
Specialized Medical Adaptive Equipment and Supplies
Environmental Accessibility 
Specialized Therapies



Shared Living – Shared living is a residential living option where a person with an intellectual or developmental disability lives with someone who wants to share a life and provide supports. The shared living provider can be anyone over the age of 18. Shared living Host Home and Companion Home providers are very diverse and can include college students, families, single people, couples, and empty nesters.

Host Homes provide services to a person in the private home of a community member, friend, or family member.



For more information:

Dakota at Home: 1-833-663-9673, choose Option 2
or e-mail DDDIntakeProcess@state.sd.us
Additional Resources